See on Scoop.it – RESEARCH CAPACITY-BUILDING IN AFRICA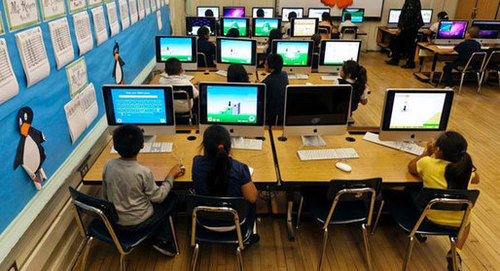 At some schools even today, just the main office or computer lab has an Internet connection.
But reworking a federal Internet subsidy program could change how classrooms look, how teachers teach and how students interact.
"We have to look at this as an opportunity to re-imagine and redesign learning," said Richard Culatta, director of the Office of Educational Technology at the Education Department.
Supporters of a plan to overhaul the E-Rate program for schools and libraries — which is being fast-tracked by the Federal Communications Commission and promoted by President Barack Obama — want to phase out the days of the clunky computer lab and shift to putting technology directly into students' hands all day.
The FCC's proposal to overhaul the E-Rate program calls for almost universal access to high-speed broadband with an emphasis on widespread wireless capability. That proposal aligns closely with the ideas in Obama's ConnectED proposal, estimated to cost $4 billion to $6 billion, which aims to connect 99 percent of students to high-speed broadband within five years.
"Who's going to lead the world now in this new era of education? I think we should lead," FCC Commissioner Jessica Rosenworcel said of her urgency to revamp the federal E-Rate program. "I think we can do something really big here."
But the timeline is ambitious, and the effort faces challenges from some in the telecom industry, which provides money for the program, often through fees charged to consumers. Despite good intentions, the work could get bogged down by the regulatory process. And even after a rewrite, some of the poorest or most-rural schools in the country may still be without premier Internet access. Comments submitted to the FCC in recent weeks about the rewrite hint at the potential hurdles.
Rosenworcel, however, is fiercely determined: "My foot is on the gas," she said. "We have to move in Internet time, not regulatory time."
Click headline to read more–
Nevermore Sithole's insight:
See on www.politico.com