See on Scoop.it – NGOs in Human Rights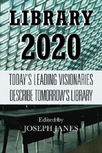 In assembling the book, I gave each contributor very little guidance and only two instructions: don't be boring, and start your essay with "The library in 2020 will be…." I also tried to get a wide range of background, experience, point of view, and time in the profession. I got what I wanted. A set of a couple dozen essays, none more than a few pages long, with a multiplicity of ideas, images, and perspectives, ranging from just this side of sunshine and unicorns to bleak and dystopian, from some names you likely know and a few you'll be hearing much more from in the future.The good folks at LJ are very graciously excerpting three essays from the book over the next few issues, beginning with this piece from Bill Ptacek, director of the King County Library System.
In 2020, the public library will be a concept more than a place. The library will be more about what it does for people rather than what it has for people. As society evolves and more content becomes digital, people will access information in different ways. Physical items will be less important than they have been up to now. Library buildings and spaces will be used in different ways, and services will be provided beyond the building and virtually. The library as a catalyst for civic engagement will facilitate learning and growth for people of all ages…………………..
Nevermore Sithole's insight:
Public Libraries and Civic Engagement
See on lj.libraryjournal.com